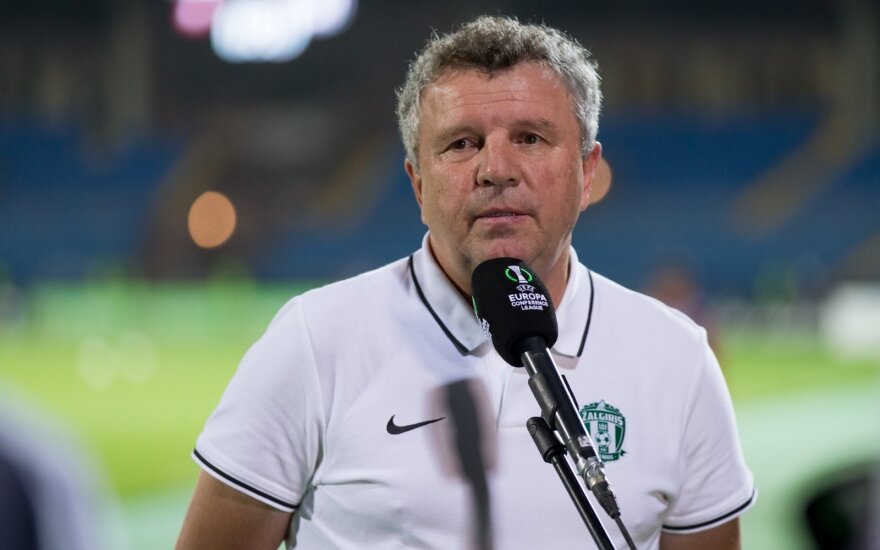 During the last round of the UEFA European Conference League, surprised by the complaints of the representatives of Basel (Switzerland) about the artificial surface of the LFF stadium, on Thursday the coach of Vilnius "Žalgiris" Vladimir Čeburina tried to explain the attack blocked from the team with natural grass in the republican stadium Vazgen Sargsians.
The Lithuanian champions lost to Yerevan "Pyunik" (Armenia) 0:2 (0:1) and found themselves at the bottom of the Group H table (1 point).
"We said the opponents would attack hard. We closed dangerous areas, didn't allow them to attack quickly and had chances to score us. But the goal 'in the dressing room' at the end of the first half complicated the situation", commented V. Čeburinas on the meeting.
44th min. hosts Brazil's legionnaire Juninho managed to head the ball into the net without 'Žalgiris' defender Mario Paveličius doing his job.
61st min. 'Pyunik' thwarted the visitors' defense by playing the ball quickly from the corner flag, and Saulius Mikoliūnas, who was protecting the box at the near post, did not prevent Nigerian Yusuf Otubanjo from scoring.
The defender, who was unexpectedly included in the starting line-up instead of Petar Mamičius, did not play with much confidence in general and was substituted first, but V. Čeburinas blocked his captain after the match.
"We knew that Pyunik would attack a lot from that side. Even though there were mistakes, I'm not disappointed. The dedication of the players was very good. Yes, some failed, there were bugs that have hampered the development of attacks. "Pyunik" also analyzed us, also prepared solutions to stop our counterattack, closed spaces. Perhaps the unusual pitch for us also helped. The most important thing is to score s 'there are opportunities,' said the Kazakhstan specialist.
He pointed out several times during the press conference that the students had goalscoring opportunities.
Although "Žalgiris" took half as many shots as the hosts (6 and 14, respectively), and only scored once.
The Vilnius side will be able to pose a bigger threat for Pyunik's goal in the week-long return leg at home.
This time victory will be needed as the hopes raised by the grateful first-round draw are dwindling away from the Conference League newcomers. The result of the next Group H meeting on Thursday was also unfavorable for Žalgiris: "Slovan" Bratislava (Slovakia) beat leaders "Basel" 2:0 away.
Source: The Delfi