"Our main message is that compared to forecasts a quarter ago, we see that the faster recovery of the economy is postponed until the beginning of next year," said Gediminas Šimkus, chairman of the board of administration of the Bank of Lithuania.
According to calculations by the Bank of Lithuania, the country's economy will shrink by 0.6 percent this year. This drop is less than expected in June. (-1.3 rpoc.) – mainly due to GDP growth in the second quarter of 2023. Next year, an increase of 2.1 percent is expected. growth (2.7% growth forecast in June).
"I would say this: the flight we are preparing for is not canceled, but delayed. The Bank of Lithuania predicts that Lithuania's real GDP will decrease by 0.6 percent this year and we expect a decrease of 2, 1 percent for next year. growth", says G. Šimkus.
According to him, the situation in the Lithuanian economy is constantly changing and the forecasts for the annual GDP result remain negative.
"Roller coaster. In the first quarter the economy shrank by 2 percent. In the second quarter it was 3 percent. grow I would like to see a turning point. Our assessment does not change, there is no reason to dramatize, even for the first 3 percent. – it's not spring yet. The economy is sluggish, economic growth is moderate," says the head of LB.
According to G. Šimkaus, industrialists are in a bad mood, production has decreased and a rapid recovery is not expected. Business orders are decreasing.
Lithuania's latest GDP forecasts from the Bank of Lithuania and other institutions:
"In the first half of next year, the industry, especially the export industry, is expected to take a breather and embark on the path of growth. We see that construction and transportation have also turned to growth path," says G. Šimkus.
According to him, the world economy is stagnating. Growth forecasts are revised downwards. The economic growth outlook for the euro zone has also been revised downwards. For the following year, it is adjusted by 1.5 percent. up to 1 percent
"The picture is not good. All the arrows are neither here nor there," he commented.
G. Šimkus calculates that the real income of the population increases, but "that's where the good news ends" because consumption decreases.
"Economic activity is being held back by falling private consumption. Even though labor incomes have recently increased faster than prices, residents are in no hurry to consume more. Private consumption is expected to be 0.4 per cent. hundred this year compared to last year. smaller.
As the real income of the population increases, private consumption will increase next year (2.7 percent) and contribute to GDP growth," the LB report reads.
Inflation 'will continue to fall'
According to LB, supply chains have normalized and prices of energy resources have retreated from last year's highs. In addition, overall demand is cooled by the monetary policy decisions of the European Central Bank.
Services that continue to become more expensive are expected to have the greatest impact on inflation. Prices of services are increased by rising wages, which represent a significant and larger share of costs than in other sectors.
According to the Bank of Lithuania's assessment, average annual inflation will reach 8.8 percent this year and 2.6 percent next year. The previous inflation forecast (according to HICP) was 8.9 percent. this year and 2.7 percent. in 2024. Last year, average annual inflation in Lithuania reached 18.9 percent.
"About prices. The subject is less often discussed. Journalists write less often. The topic is behind interest in terms of popularity, but remains popular and will remain so until inflation returns to 2%. "cage", says G. Šimkus.
He distinguished between net and gross inflation, and although the latter fell sharply, net inflation fell at a slower rate.


"We talk too little about net inflation, that is to say inflation driven by the prices of goods and services." Net inflation is particularly important for medium-term price forecasting. It is higher than general inflation. Although net inflation is falling, it is not as fast as general inflation. Next year, the "most influential" factor supporting inflation is expected to be the services sector, he said.
G. Šimkus said that LB's previous analysis showed that purchase prices of agricultural products increased faster than producers' costs, while in the food industry production prices increased more moderately than costs.
"The latest data shows that the situation has changed: in the first half of this year, the prices of agricultural and food products increased to the same extent as costs. If we look at the last part of the food chain: the prices of commodities "food costs for consumers have increased more than costs for traders," said the head of LB.
"These data do not indicate that any food supply activities are particularly profitable," he added.
According to him, the growth in corporate profits contributed to the rise in prices in Lithuania.
The labor market situation remains favorable for employees. The unemployment rate is close to 6 percent. It is currently no higher than before the upheavals of recent years began.
"If nothing happens that we do not expect, the employment rate should not decrease. The situation on the labor market is really good," says G. Šimkus.
Anticipating an upcoming recovery in the economy and demand, companies are working to retain existing workers. The average salary is expected to be 12.4 percent this year. higher than last year, still 9.8 percent. an increase is expected next year.
However, in struggling industries, such as manufacturing, trade and real estate, wages are not growing as fast and the number of employees is falling.
The slowdown in global economic development is reducing pressure on prices.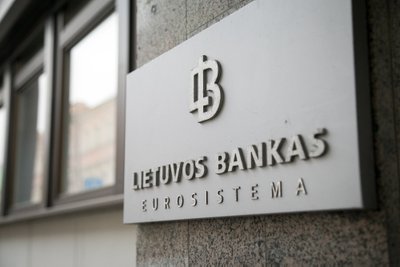 In September, the Ministry of Finance predicted that Lithuania's economy would grow by 0.4 percent this year. contraction, and 1.7 percent is expected next year. growth (a contraction of 1 percent and growth of 2.5 percent were announced respectively in June).
According to the ministry, average annual inflation will reach 9 percent this year, and next year the rate of price increases will further slow down and reach 2.9 percent.
Wage growth in 2023 is expected to remain rapid (12.1%) and exceed the rate of price growth. Unemployment is expected to reach 6.9 percent this year.
Source: The Delfi