In mid-June, the Seimas approved the ban on heated tobacco with added odor or taste, which comes into force on October 23 this year.
At the same time, manufacturers of heated tobacco are required to warn about health harm on product packaging.
Flavor and fragrance requirements and package warnings apply to cigarettes and hand-rolling tobacco. Based on the provisions of the Law on the Control of Tobacco, Tobacco Products and Related Products, in force until now, it was not prohibited to supply heated tobacco products with an odor or added taste.
This ban was born at the initiative of the European Commission, it will therefore be applied in all member countries of the European Union.
According to the National Tobacco Manufacturers Association, these bans will affect about a third of the tobacco market. Heated tobacco manufacturers also see potential risks.
"Flavored tobacco products occupy a significant market share, which automatically creates additional risks. Once the ban comes into effect, we will monitor further user behavior. It is likely that some consumers will choose tobacco-flavored products, but some may also turn to the illegal market. That would probably be the biggest threat to this ban," he previously said. Delphi commented Arnas Neverauskas, executive director of the National Tobacco Manufacturers Association.
Liudas Zakarevičius, director of external affairs for the Baltics of Philip Morris Baltic, the largest manufacturer of heated tobacco products, said that about half of the basket of heated tobacco products consisted of menthol-flavored products.
However, not only will mint tobacco sticks have to be withdrawn from the market, but the bans also concern all products with a strong taste.
Among other things, the law states that combustible tobacco products used for igniting must be labeled with textual and visual warnings, and that combustible smokeless tobacco products (used unlit) must be labeled with a textual warning.
Each unit package of smokeless tobacco products, including heated smokeless tobacco products, and all exterior packaging must carry a health warning: "This tobacco product is harmful to your health and creates dependence. »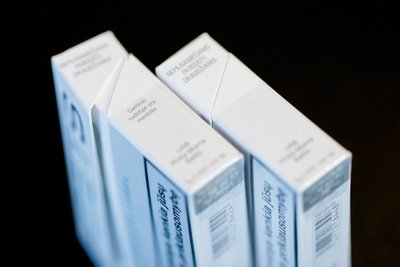 Research shows that the consumption of heated tobacco products is increasing in Lithuania. in 2020 According to the Eurobarometer survey, the prevalence of smoking in Lithuania exceeds the EU average. 10% have tried heated tobacco products at least once in their life. of respondents (16 men and 6 percent women), while the European average is 6 percent.
According to the Department of Drug, Tobacco and Alcohol Control Regulations 2021. According to the data of the conducted study, 17.9 percent had tried heated tobacco products at least once in their life. 15-64 years old Lithuanian population. The prevalence of heated tobacco product use was higher among men than women, as well as among 15-34 year olds. age population (32.2%).
The research also shows that the main factors that led to the choice to start using e-cigarettes or e-tobacco products were the example of friends, colleagues or others who smoked smokeless e-tobacco products innovative (30.6%) and the availability of different electronic tobacco products. flavorings and perfumery products (28.3%).
Flavored and scented products were most popular among e-cigarette and combustible tobacco users.
The proposed restrictions are based on the European Commission directive, which aims to reduce the consumption of tobacco products in the European Union. Member States have committed to this by July 23 this year at the latest. adopt and promulgate laws and regulations.
Source: The Delfi