A long-standing family business is destroyed
In the Kaunas district of Garliava there is a hotel built next to the highway, equipped with a cafe and a rest area for drivers with all amenities. The company here was established by Lithuanian Armenians, who received bad news in April: the new Via Baltica highway will be built on their commercial territory.
"No one will compensate for the disruption of the business. 20 years of work, sweat, blood, sleepless nights. In practice, the third generation is growing up in this family business," said company representative Arevik Oganian .
Dozens of hectares, 12 houses, including 4 residential, will be allocated to the construction of the highway for public needs. The businessmen say it is planned to take about 15 acres of land from them.
"Our entire pond is destroyed, the children's playground will have to be completely demolished and, accordingly, our terrace," A. Oganian told the LNK newspaper.
According to the Motor Roads Department which is implementing the project, there are no plans to move the hotel building.
"No building should be demolished in this location, nothing will be taken." A small plot of land will be reserved there, which will only be used to build a nearby connecting road. This will certainly not have any effect on buildings," assured Aivaras Vilkelis, director of the Department of Transport Infrastructure Planning and Innovation.
However, entrepreneurs say they have already experienced a project where one thing was promised and another achieved.
"They said there would be an additional road for farmers, there would be either an underground roundabout or a bridge. With the current plan we see that there is no turning point or any bridge in sight. We were promised then that the entrance would remain, and now they are completely closing the entrance to us," said company director Boris Oganian.
Entrepreneurs also see a problem with the sound barrier.
"They want to isolate us from the main road, and this entrance of this road into our territory is the most important thing that allows this company to exist," the company representative said.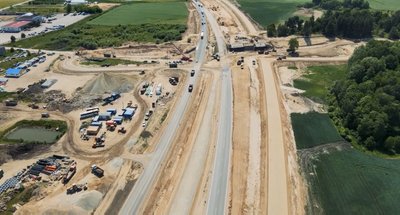 Drivers also appreciate current amenities
Dozens of truck drivers from all over Europe stay at the rest area every day. It is said that such infrastructure, with all the amenities, is not common on the road.
"Pabalti lacks comfortable rest areas for drivers, and here there are showers, a place to eat – everything you need," said one of the drivers.
"If there was no entrance, you would have to travel another 10 kilometers to get to the site. I would not go here. It is important for us to save time and fuel, so I would look for another location," another truck driver told LNK News.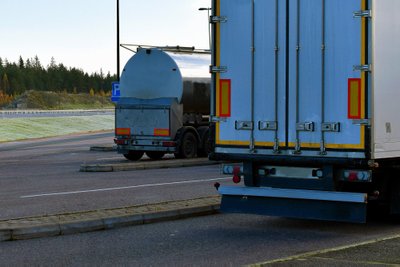 The fear of entry by entrepreneurs is real, but according to management, this entry presents a danger.
"Entrances to this type of road can only be made every 5 kilometers. They will need to be removed and moved to other secure entrances, so a few hundred meters before the entrance to the next roundabout it will be moved and will be able to return safely. Such entries really represent a risk, because the traffic moves at high speed," said A. Vilkelis.
Fear of bankruptcy
People are experiencing the fact that a company that has existed for more than a decade is threatened with bankruptcy, because it would become difficult to get to the hotel.
"Not only will it be difficult to get in, but you will also have to drive a long time to search," said company representative A. Oganian.
However, management reassures that the project has not yet been approved, so where and what to build will still be examined.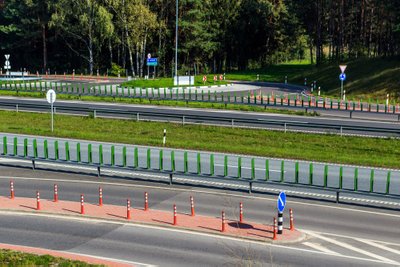 "A design competition is underway, a contractor will be appointed who will select detailed solutions from the design process, then it will be decided to select the most practical solutions possible for residents or businesses. At that time, all will be resolved. Today, land is taken only to have a certain area and then look for the best solutions," said A. Vilkelis, Director of the Department of Transport Infrastructure Planning and Innovation.
As reported in LNK information, work on the section between Garliava and Mauručiai is expected to start within a year and a half.
You can find the full report on the LNK portal:
Source: The Delfi