"Those who say that there is exercise here are right. A system would be created, and then it would be clear that other political forces would increase these taxes. The arguments in favor of this are very strong. It is "It's a municipal environmental tax created by taxpayers," he said in an interview with Elta.
As you know, in the proposed property tax law submitted, it is proposed to increase the tax exemption ceiling for the main residence of a natural person from 1 to 1.5 of the median property values ​​of the municipality .
The project also proposes that progressive taxation be applied to an individual's main residence. The portion between 1.5 and 2 of the municipality's median property values ​​would be taxed at 0.06 percent. rate, and exceeding 2 median – 0.1 percent.
The Finance Ministry estimates that if such changes were adopted, the average housing tax per capita would reach 16 euros per year and two-thirds of the population would pay no tax. The revenue collected would go to the municipalities.
According to R. Lazutka, the average amount of 16 euros would not have a significant impact on a person's position in society.
"The NT tax would have some effect on the middle class in Lithuania, but its amounts are not significant – a person would change their position in society because of it," he said.
The interviewer noticed that in modern society, owning property is very important to people.
"People feel it, they often talk about it. By the way, he is angry and says: here a person took out a loan and bought a house. And if this house is in Vilnius, in a better area, he he may already have to pay – depending on the property tax regime (if the first house is taxed and at what level).
I would like to emphasize that we should not cry here, because depending on who gets the bank loans, it is the upper class population. Maybe average, but we could classify most of them as those with incomes in the top fifth. Because those with low incomes don't have enough savings to contribute and, judging by their income, they simply don't get that loan.
In contrast, in Lithuania and other post-communist countries, almost all older people own their own real estate. Then we hear that they should be paid and that their income is low. Yes, the problem with such a society is that loans are only available to those who earn high incomes, while those with low incomes have assets, i.e. pensions. In societies that have not experienced historical changes such as Lithuania, wealth and income are generally highly correlated. If a person owns property, it means that he has earned a higher income," R. Lazutka said in an interview.
The tax reform presented by the government provides for higher taxes for some self-employed workers. R. Lazutka noted that in terms of taxation of different types of income, we should go even further.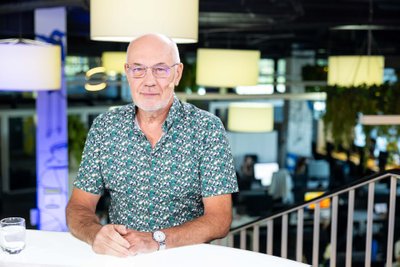 "I have this heretical idea: for example, social benefits and pensions are also taken into account in Western countries. We were told about this once and there was an immediate outcry, but we have to take into account the fact that there are people who receive income from various sources, so it would be good if all their income were taxed on a flat basis instead of separating income by type and taxing them.
This is not correct, because it can happen that a person works and receives a pension. As an employee, he pays taxes and social security contributions. And the other may receive a fairly large pension, and on top of that he owns real estate, businesses and still works – which means his income can be very high. His pension would then still be taxed. It is worth talking about it in more detail, without being afraid to talk about it," the economist said.
The coalition council, which met at the end of the summer, agreed to continue discussions on the tax reform, which has caused contradictions between the ruling parties, in stages and with sufficient time. It is not excluded that certain discussions could also be postponed until next year.
Source: The Delfi