This booming industrial area has room for businesses on both sides of the New Cold War. Morocco, like many other large emerging economies, would like it to be so, although it will not be easy to maintain such common ground in a polarized world.
More than one Western company has set foot here, and many are still coming. Across the highway from the Renault SA factory, which employs 8,000 people, is Tanger Automotive City, a 1,500-hectare business park that is home to dozens of companies, such as the automobile seats from Michigan Lear Corp. and a French component manufacturer Valeo.
Currently, China is strengthening its position in an attempt to reach more global markets.
New entrants to the automotive group include fiber optic cable maker ZTT Group, which is heavily involved in Beijing's grand plan to build belt and road infrastructure across the planet. In May, battery maker Gotion High-Tech Co. signed a memorandum of understanding with the kingdom for $6.4 billion. construction of a battery factory for electric vehicles in Morocco, one of the largest in the world.
"A number of Chinese companies are considering Morocco today, and some announcements will be made soon," said Ahmed Bennis, CEO of Tanger Med Zones, in an interview in early June.
The location of several of them: Tanger Tech City; this "smart city" with its public infrastructure, residential areas and tourist services will house many Chinese companies.
"At the beginning, Chinese companies were going to develop in Vietnam or in South Asia", explains A. Bennis. "Now they are thinking about Morocco."
All of this is similar to the globalization widely predicted decades after the last superpower duel ended. But the escalation between Washington and Beijing has left smaller economies, from South Africa to Saudi Arabia, in the middle and under pressure to choose sides.
"Morocco is watching what other countries are doing to see how these competing interests can be reconciled," and US government officials in particular "understand that Morocco is protecting itself against risk," said Geoff Porter, founder of North Africa. Risk Consulting Inc. "They accept that Morocco has every right to do this, but when the time comes, Morocco will have to make a choice," he says.
Moroccan officials hope they can avoid this for now, as its location on the doorstep of Europe and Africa and free trade with the United States make the country attractive to companies around the world looking to produce for these markets.
Production logistics in Morocco depend on the deep-sea industrial port of Tanger Med and foreign companies that can transport goods. Every day, 50 or 60 freight trucks, operated by XPO Inc., based in Greenwich, Connecticut, are transported through the Strait of Gibraltar to Spain.
Most of XPO's business involves shipping goods from Morocco to Europe, and two of its main customers are Chinese auto parts makers. Luis Gomez, president of XPO in Europe, says the company's turnover in Morocco is increasing by around 30% per year.
The increase in trade flows is facilitated by the Tanger Med port, which rivals some of the most famous trade gateways in Europe in terms of volume and connections to markets around the world. It is still expanding, with more space for container ships and increasing car export capacity. On a recent morning, several of the first electric cars made in Morocco were parked on the quay, ready to be dispatched.
Morocco is building another huge port near the Mediterranean town of Nador, hoping to repeat Tangier's success.
Ports have been the subject of intense national security debates in recent years, given China's vast shipping capacity. However, the terminals of the Tanger Med complex are mainly operated by the largest European shipping companies, including the German Hapag-Lloyd AG. Rolf Habben Jansen, managing director of the container ship, said the Tangier site meets a variety of needs.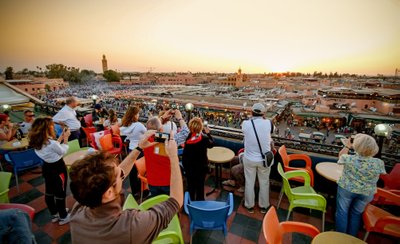 "If you transport goods from, for example, Asia, you can use the port of Tangier and distribute them in the western part of the Mediterranean. You can also use it to transport goods to Northern Europe. You can also ship them to Africa, the United States or South America, he said in an interview, "We would like to invest more in that."
Morocco's relationship with the West extends beyond trade and investment ties. Morocco, at 37 million with a population and economy the size of Mississippi, is included in a shortlist of countries designated by the United States as "key non-NATO allies". As a result, it can cooperate in the field of defense and security, which is useful in the event of regional territorial disputes. It is these connections that further complicate China's strategy in this area.
Last year, the United States overtook France as the top source of foreign direct investment in Morocco, while China rounded out the top 10, according to government data.
Huawei Technologies Co. and ZTE Corp., two Chinese tech giants that Western authorities consider a national security threat, already have bases in Morocco and are actively recruiting young engineers. If plans for the high-tech industrial zone materialize, around 200 additional Chinese tech companies could operate here by 2027.
There are probably only a handful of American business leaders who have watched the country's transformation in two decades as closely as Julianne Furman, CEO of automotive supplier Polydesign Systems for Europe. The company, which employs 1,600 people at its plant in the Tangier free zone, manufactures interior trim and car seat parts and ships them around the world.
The business started in 2001 with just 50 employees, "when there were empty fields with sheep grazing here," she said. Furman believes the geopolitical risks of US-China competition are real, but can be overcome.
"It's a fine line between not boring one and making the other happy, but so far Morocco seem to be managing to keep that line," she said.
She cites some of the benefits of manufacturing for global customers: Absenteeism and employee turnover rates are much lower than at the Central European factories she previously managed. If Polydesign wanted to operate in a more expensive country, like the UK, where there is more automation, labor would be 10 to 12 times more expensive, Furman said.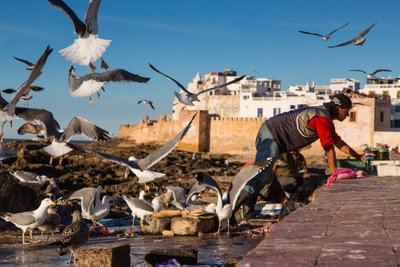 The campaign to attract investment still faces many obstacles. The Moroccan labor market, for example, "does not seem very well prepared for this challenge", said Federica Marzo, an economist at the World Bank (WB). Women's participation in the labor market is slow, childcare options outside the family are limited, and commuting to work becomes an ordeal for many workers.
At Renault, for example, convoys of buses transporting workers to and from the Tangier plant block traffic during shift changes. Around 150 passenger buses arrive and depart each day, with a three-hour round trip. In 2018, Morocco opened a high-speed train linking Tangier with the capital Rabat and the city of Casablanca – but many workers in rural Morocco cannot use it due to cost and limited stops.
Besides mobility and a better gender balance, young workers also need better skills. It is in this area that the United States and China compete: two programs launched in April have highlighted the essence of the rivalry between the great powers.
The American aerospace giant Boeing Co., in collaboration with the Ministry of Youth, Culture and Communications, has launched a four-month STEM training program for dozens of young people aged 18 to 25. Meanwhile, Huawei's Moroccan unit held masterclasses at a local engineering school that ran programs to boost IT skills.
China is much more assertive when it comes to recruiting and training local students, said Rabia El Alama, executive director of the American Chamber of Commerce in Morocco. She lives near about 150 young Chinese executives who work for Huawei and ZTE. They speak the local dialect and blend in well with the community.
For example, Huawei "visits universities, establishes academies, provides grants, pays scholarships to students just to come to China," she said. "I wish the United States offered scholarships to students."
Source: The Delfi