Most of the population has long been accustomed to shopping in shopping centers, which have arisen not only in every city, but also in every district of the city. There are several reasons for this habit. Shopping centers provide the opportunity to buy goods of different segments in one place, provide greater choice and lower prices. The most free day of the week – Sunday – is often reserved for a trip to a larger shopping center. It's no secret that rural residents also frequent urban shopping centers during vacations.
As Agriculture Minister Didzis Šmitas pointed out to ReTV, this is wrong: "For us, the Spice shopping center has now become the cultural center of Kurzeme, and Alfa in Vidzeme. I think that on weekends Riga should go to the village, and not the village should go to Spice or Alfa cultural centers.
According to the Minister, the belief that products are cheaper in supermarkets is a myth. He believes that shopping malls should be closed on Sundays and public holidays, which would encourage residents to shop in smaller stores and visit real cultural centers and restaurants.
"It will not have any negative impact on the economy. It will help to open up new outlets and sales channels. In fact, in a sense, it will break the monopoly that currently exists, because where a large distribution company opens , everything that existed before his arrival closes, "said the minister.
According to the largest shopping center in Valmiera, it is clear from the discussions that the Minister of Agriculture hopes to boost sales of the products of Latvian food producers and farmers in this way. However, for example, in the Valleta shopping center, food products represent only 13.5%. full range.
Mall representatives contacted by ReTV compare such a plan to the times of the pandemic, when mall opening hours were limited. Valleta Shopping Center manager Monta Rubene said: "After the implementation of such a proposal, the conditions will again be created for unfair competition. There will again be a situation where clothing stores, shoes , sporting goods and the like located in malls will not be able to work on certain days, while those located outside the mall will be able to."
On the other hand, almost all shopping centers in Jelgava have pharmacies. This means that the population will have limited possibilities to buy medicines. In addition, as the representative of the Elvis Vineta Griganė – Drandė shopping center points out, local manufacturers will also suffer losses: "This means that we will have to completely rearrange the timing of orders so that there are no write-offs, especially for goods with a short shelf life, which includes a large number of products from Latvian manufacturers. For example, for the same milk, one and a half days is a very important time in terms of traded volumes, which means that we will be forced to order less."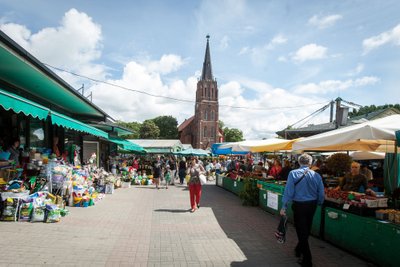 Noris Kruzitis, executive director of the Latvian Association of Food Traders, said: "There are many small grower shops that sell these products next to big stores. Of course, the latter will be the first to suffer, since many people work during the week and make larger purchases in large shopping centers, especially rural ones, on Saturdays or Sundays, more often even on Sundays. And they're not the only ones going to supermarkets."
Such shifts in working hours would affect the hourly wages of hundreds or even thousands of supermarket workers, who are paid twice as much on Sundays and public holidays.
Discussions on the closure of shopping centers on Sundays and public holidays, as well as the criteria for the closure of shopping centers, are still ongoing, but the minister already plans to submit a proposal to the government in June. If the government does not approve it, it will be submitted as a bill to the Seimas.
Source: The Delfi