"Business is also heterogeneous. We are seeing a slowdown in certain sectors, which are manufacturing, retail, transport. I think we will still have a recession for at least a year now, maybe this recession will last up to two years, depending on the scenario that will play out.
I think you should just try making a pillow. On the one hand, the company has to save, look at plan B, C and so on, because most companies live on borrowed money, and today loans have become less accessible and more expensive. The government should inject as much money as possible from the structural fund as soon as possible, so that we can survive this recession as gently and as quickly as possible.
According to S. Besagirska, although there are currently no indicators of rising unemployment, residents should also save.
"I think the job market is the one place we should worry less about," he says.
"So far, from what I've been able to talk to the company, no one is going to lay off, and if someone's production stops or something, the logic of the company is the following: if we lay off today, growth will start again in a year or a half and we will no longer find these people. Companies will simply take the burden of the recession on themselves, but not pass it on to employees," predicts S. Besagirskas.
Aren't we going to see more bankruptcies for these reasons?
"The number of bankruptcies is increasing somewhat now, but companies simply have to choose between trying now, living better in the short term by laying off employees, or looking long term and keeping employees?" Companies prefer to keep employees," explains the interviewer.
When will it be the hardest? The economist predicts that the third and fourth quarters will be the most difficult this year.
"I think the European Central Bank plans to raise the base interest rate another two times, which means the European Central Bank will put even more pressure on the economy to head into a crisis." On the other hand, we can see that the US market is the same – the FED is also raising the base interest rate and the secondary data shows that the US is heading for a crisis as well. So, I think that the third to fourth quarter of this year will be very difficult and, perhaps, the first quarter of next year will be difficult, and after that we will see, according to which scenario will come true", explains S. Besagirksas.
We are seeing a decline in industry volumes and have been talking about it for months. Recently, news has emerged of ongoing construction both in the Eurozone and throughout the European Union. Now dairy farmers are already saying their exports are also falling. And after?
"We always see the same scenario – everything starts with industry and then moves on to other sectors: transport, services, construction, etc. If today the population still has enough savings and, say, services s are still buying pretty well, even foodservice prices are, in fact, still growing today, so I think that's going to spread across all sectors and in Q3 through Q4 we'll see it there is a more or less severe recession in all sectors," says S. Besagirskas.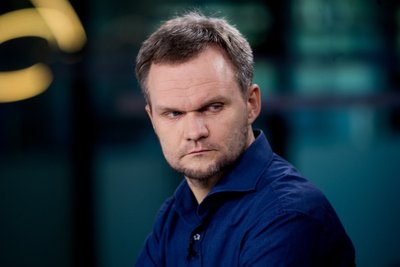 A few years ago, we said and we reassured that there would be a slowdown, but nothing like the previous global crisis will happen. How is the situation now? Can we still trust such words?
"On the one hand, if you remember the crisis of 2008, it was the same rhetoric. He said: well, it will take a year, everything will be solved here. And, in fact, real GDP growth only started in 2012, which means that almost five years later, we saw the economic curves start to steepen a little.
Now the base case scenario is that the economy will bottom out and then the Fed and the European Central Bank will start cutting the base interest rate and that will probably be in the first half of next year and then the borrowing will recover, consumption will recover and so on", about , economist S. Besagirskas tells what kind of picture is drawn.
"We don't know how it will actually turn out, but we can stick to this basic scenario, survive a year very hard, try not to go bankrupt, and after a year the sun will shine for us again," he said. .
Full interview in the report:
Source: The Delfi