First, there is a lack of planes. Airlines have not used much of their fleet because demand for travel during the pandemic has been so low that they were simply not needed. Now they can't get them back fast enough – it takes a hundred man hours to decommission the biggest planes for a long time.
Second, consumers are willing to pay more for tickets after losing the ability to travel, in some cases for three years. A Booking.com survey in which more than 25,000 people participated. of adults planning to travel in the next 12-24 months showed that many would be willing to be more "forgiving" in their travel itineraries to make up for lost opportunities.
"Even though some trips may be a bit more expensive than before, many people still see value in the cost of travel," said Marcos Guerrero, senior director of flights at the online travel company.
The bad news for consumers is that airfares are likely to remain high for several years to come, or so says Michael O'Leary, chief executive of Ryanair Holdings Plc., Europe's largest airline by passenger volume.
Airlines have suffered nearly 200 billion. Losses in US dollars due to Covid-19, tens of millions of jobs have been lost in the aviation sector. Now that the travel sector's recovery is in full swing, the industry is struggling to rehire enough workers. Many well-educated ex-employees have decided to completely change careers and find a much more stable job.
Staffing shortages lead to additional waste at airport check-in counters, immigration desks and baggage claim carousels. Additionally, airlines are being forced to do more to attract and retain employees, which means offering better salaries. As a result, airlines end up raising airfare prices to recoup the extra costs.
Fuel prices fell a bit last year, but crude oil is still more than 50% higher. more expensive compared to January 2019, which is a problem for airlines, since fuel represents the largest part of their costs. Many carriers, especially budget airlines, do not insure fuel, making them vulnerable to price spikes caused by events such as Russia's invasion of Ukraine.
Airlines emit just over 2%. of total global emissions, but they lag behind almost every other company committed to a cleaner future. This is partly because the only solution currently available, sustainable jet fuel, is five times more expensive than conventional jet fuel.
The aviation industry will have to pay $2 trillion to become carbon neutral, according to the International Air Transport Association. International Air Transport Association -IATA). To achieve these goals, airlines will have to increase airfare prices, so flights will become even more expensive.
Meanwhile, some of the newer technologies being discussed, such as hydrogen and electric planes, are still largely in the research stage and will be expensive if implemented.
At the height of the pandemic, even 16,000 planes – about two-thirds of the world's commercial aircraft fleet – did not fly. Returning them to airworthy condition is a colossal task: every element of the aircraft must be carefully checked to ensure its safety. Many aircraft have been stored in the deserts of the United States and Australia, where they are less vulnerable to wear and tear, but can still encounter issues such as damaged interiors and engines.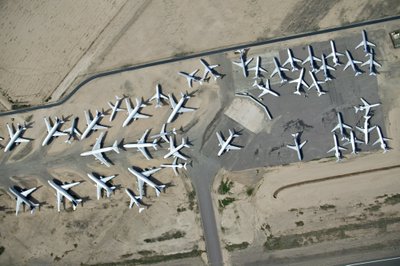 In addition, the capacity of aircraft manufacturers is lagging and the production process is hampered by labor shortages at subcontracting companies. Sanctions on Russia have also made it difficult for Airbus SE, Boeing Co. and their suppliers to source raw materials such as titanium, driving up prices for parts.
Buying new engines is another headache. Airlines such as Spirit Airlines Inc. and IndiGo in India have been forced to ground new aircraft due to parts shortages and manufacturers struggling to produce new turbines. Some next-generation technologies also require more frequent maintenance, as parts such as exotic metal alloys, coatings and composites wear out more quickly.
"Capacity is a challenge," Ryanair CEO Mr O'Leary told the Bloomberg conference in April. "In the medium term, the inability of Airbus and Boeing to significantly increase production volumes means that capacity will continue to be an issue for the next two, three, five years."
According to Mr. O'Leary, this summer, the prices of air tickets will increase by double digits after having reached 15%. having succeeded in their jump last year.
China, the world's second-largest economy, was spending nearly $280 billion a year before the pandemic. USD for tourism, which is still recovering from the crisis.
The government has held out measures to contain the virus, such as blanket city quarantines, longer than anywhere else, and people are not too keen on risking travel again, even though the country has long since abandoned its zero- Covid.
According to survey data released on Wednesday, more than 30 percent Chinese travelers have given up traveling abroad in 2023.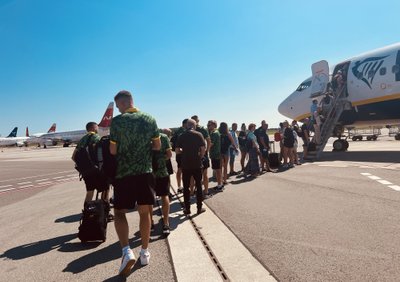 The Asia-Pacific Airlines Association says it will take China at least a year to return to pre-pandemic levels of international air travel. Domestic flights are returning to 2019 levels, but a wider opening is taking much longer as China's chosen route has made the country even more isolated and cut off from the rest of the world.
China's slow opening has left airlines worried about getting all their planes and capacity back, leading to fewer seats on international routes, weaker demand and higher fares .
"Airlines still haven't fully recovered from the pandemic," said Clint Henderson, editor of frequent flyer website The Points Guy. – Flights to China are a prime example. There are very few at the moment, and those that are, the prices are astronomical.
Consumers have accumulated millions of airline points and miles earned on credit cards during the pandemic, but it is proving difficult to use them due to the lack of available seats on flights. Airlines typically only allocate a few seats that can be redeemed for points, and that portion has only been shrinking. Moreover, they have started to undervalue their points, Henderson noted, adding that consumers should be on the lookout for rare opportunities and take advantage of them.
"If you see the right opportunity, take it," he said. "They don't stay long these days."
Source: The Delfi